Discover more from Naughty List News
Weekly reporting through a sex-positive lens about the people behind adult gaming
Over 1,000 subscribers
Mr. Hands' Naughty List #2
Hello lovelies!
Welcome to another edition of my Naughty List! Just like last time, I'm dropping you the latest and greatest happenings in the world of games about love, sex and romance every two weeks! 💘
I have a number of interesting projects this time that could really use your love and/or support, so let's get down to it!
The Lost Delinquents of Rollings High
The Lost Delinquents of Rollings High is a new game by Jago Games, up on Kickstarter right now! I've been following this creator for a while now, their animations and feelings for comedic timing are off the charts good. 😂
About the game: Marty Greenwood is a senior at Rollings High School in the USA of the 1980's, living in a quirky mountain town named Frank's Hollow. Marty has a hard time keeping up with everything: not only are finals coming up, but his childhood friend May won't leave him alone either. And of course, Prom Night is coming up as well. 😓
But as he struggles to get through his finals, Marty is getting the feeling that there's something else going on, something dark and mysterious. And it's getting worse by the day...
Help Marty navigate the social nightmare of High School by making friends, finding love and maybe even uncover some dark secrets that would prefer to stay hidden...
But whatever you do, make sure you do it before Prom Night! 💀
FluvStruck ❤
In FluvStruck, you play a writer who's trying to make it big in the romance novel category. There's just one problem: you're terrible at it... 😓
It isn't until you have a fateful encounter with Yuna, who edits books for a living, that your writing starts to improve. 🗒 She gives you a magical app on your phone that allows you to gather Fluv from the girls you meet, which you can use to impress them and finally experience love first hand.
But Yuna has her own dark reasons for encouraging this behavior... 😈
FluvStruck is an adult dating sim that combines match-3 gameplay with skillful time management! The game is up on Kickstarter right now and could really use your support. 💌
There's also a demo on Steam which features three of the girls in the final game.
Love Shore has a trailer 🎥
…And you need to watch it right now!! 😍
This game is perhaps one of the most highly anticipated Visual Novels of next year, featuring a diverse cast of interesting characters in a futuristic metropolis.
If that tickles your fancy, be sure to hit them up on Steam and follow them on Twitter!
Fill your inbox with love! 💌
Don't miss out on future newsletters and sign up for the mailing list!
Dungeon Tail 🐺
Dungeon Tail is about two (furry) students of the Dungeon Delver Academy getting themselves into (sexy) trouble inside the Enchanted Caverns. Featuring Iris the bunny mage and Vyncent the wolf rogue, the game has plenty of sexy encounters in this wonderfully animated visual novel about a lewd fantasy world! 🦊
This game is still being developed by the talented OmegaOzone, but there's already a lot of sexy happenings going on. 😊 I'm really looking forward to see where it will go from here!
You can follow development on Patreon and download the demo right now from Itch.
Kosmos Connections - Update 💖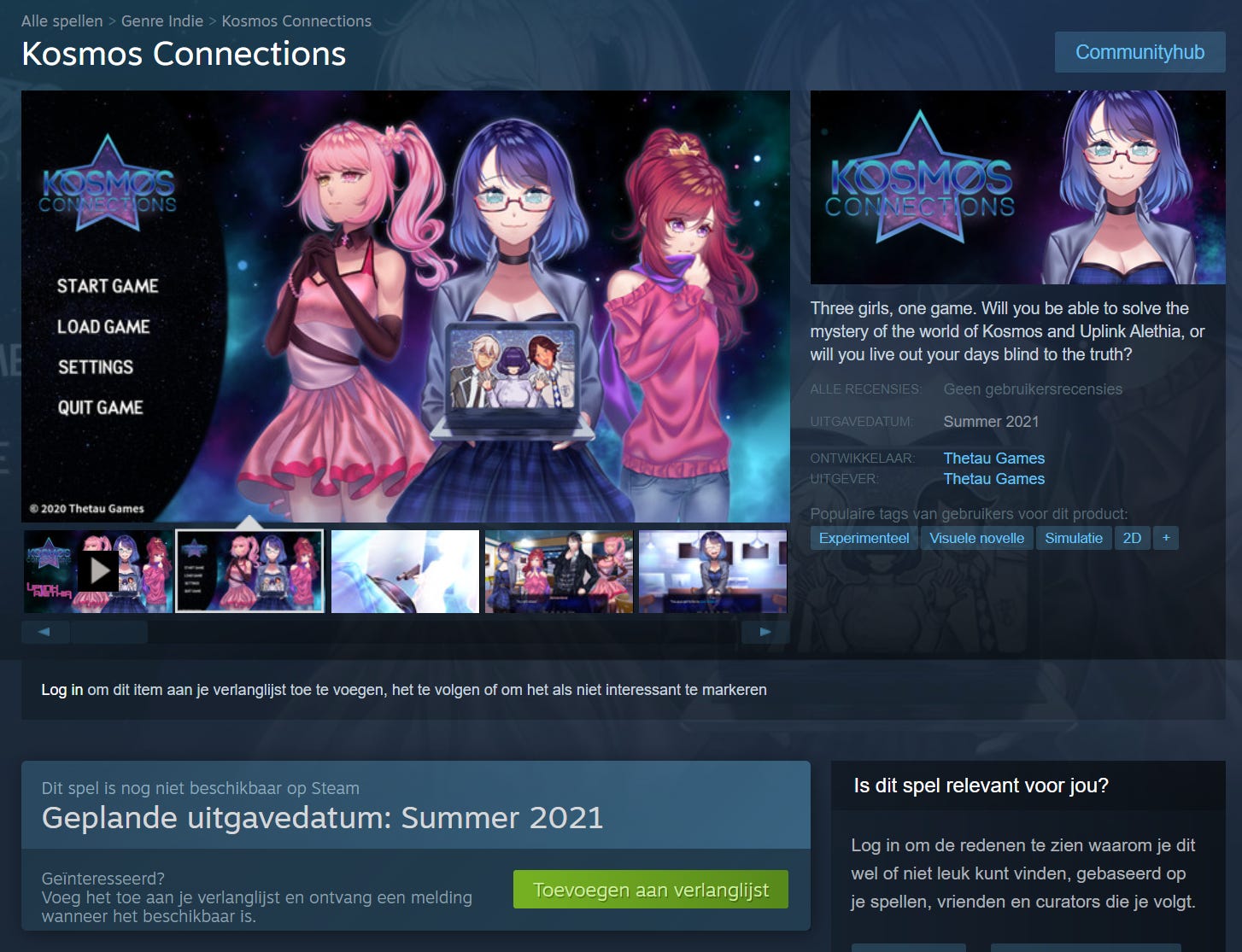 After the previous newsletter, which you can read here, I contacted the maker to assure them they could use what I wrote in the newsletter for their store description if they wanted. Well, long story short, they really liked that idea! 💖
I wrote them a new copy, which you can now find on their Itch and Steam pages!
So if you're interested in attracting more eyeballs to your game's page, feel free to hit me up on Twitter or by replying directly to this newsletter. 👀
Feedback? 💭
Are there any projects that you would want me to take a look at? If so, don't be afraid to leave a comment or poke me directly on Twitter @MrHands31!
Until next time!
Mr. Hands